Display options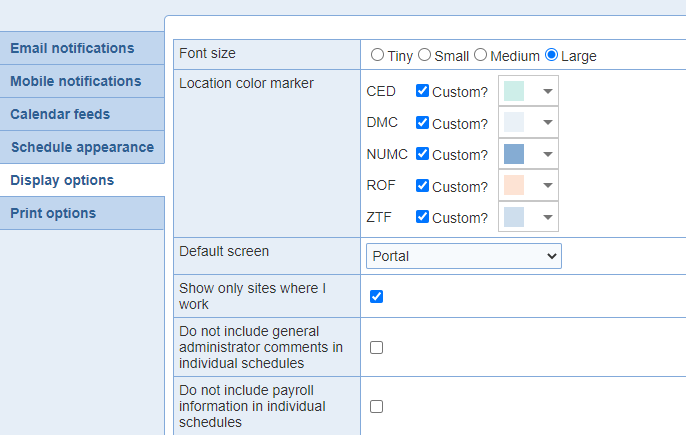 Font size: You have the option to change the size of the font on the calendar view. Here are the options to choose from: 'Tiny', 'Small', 'Medium' or 'Large'.


Location color marker: Select the color you want used to identify each location where you work. This color will be displayed beside shifts from that location in your 'Individual schedule', helping you identify shift locations at a glance.
Default screen: Select the screen you wish to display after login. The options are 'Portal', 'Current individual schedule', and 'Current master schedule'. By default the provider portal will display.
Show only sites where I work: For the initial display of 'Requests', 'Draft', and 'Master' schedules, show only the sites where I work. (If desired, you can change the display to show all sites
using the 'Select Sites' drop down menu from that schedule.)
Do not include general administrator comments in individual schedules: General administrator comments can be suppressed in individual schedules.
Do not include payroll information in individual schedules: Payroll and paid activities can be included in or excluded from personal calendars, calendars in the mobile app, and calendar feeds.