Save and export payroll
Save the payroll and download it as an Excel workbook or Comma separated values.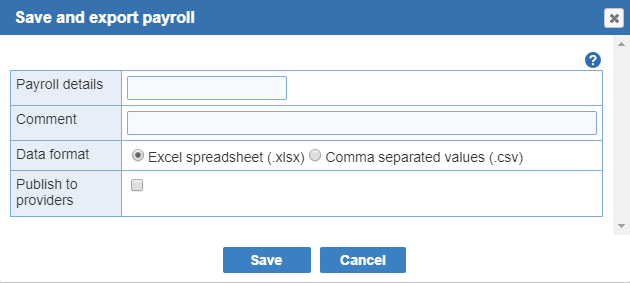 Payroll details: (Optional) Custom details can be added to saved payrolls
Comment: (Optional) Enter in a description regarding the 'payroll summary'.
Publish to providers: (Optional) Select the check box to publish the 'payroll summary' to providers.
Note:
Once the providers are removed from the schedule, they are not listed in the payroll when it is run. Payrolls already saved cannot be changed.

 

 

The Excel files for payroll contain the extra pay in a separate worksheet. The worksheet is not included if the there is no extra pay for the payroll.

 

 

Ability to collapse and expand columns in the payroll summary.

 

 

Note that the .csv file shows the whole summary and not individual tabs for providers.

 

Currency symbol will be included in the total values.