View Emails
A searchable log of emails and text messages sent to providers and user is available to location administrators.
Select the 'Admin' tab

 

Click on 'View Emails'

Enter in email address or name within the 'Recipient name or email' text field.

 

Select 'Find' from the top menu

 

You can also search by 'From' or 'Content' for your location.

 

A list of emails and mobile notifications will be displayed below.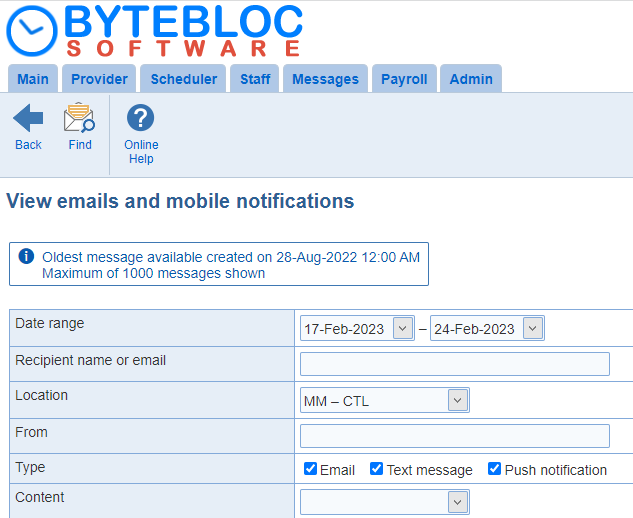 Date range: Choose a date range from the calendar pop ups.
Recipient name or email: Enter in name or email address into this field.
Location: By default your location will be selected. If you're associated with multiple groups, then you can choose the other groups from the menu.
From: You can search by the From field.
Type: Sort by Email, Mobile notification or both.
Content: You have the following options to choose from:
AccountCreation

 

AsSkedAsWorkedDeviation

 

AsSkedVariantPublication

 

ConfirmationReminder

 

DayAtAGlance

 

DraftVariantPublication

 

ExcessShiftHours

 

FutureOffCreation

 

FutureOffIgnoreOrDeny

 

MedicareDecertificationWarning

 

MemoAsEmail

 

MemoAsTextMessage

 

RequestLocationAdminReminder

 

RequestProviderReminder

 

RequestVariantPublication

 

ShiftsRequestOnConflict

 

ShiftTxProposalCreated

 

ShiftTxProposalResponse

 

ShiftTxProposalWithdrawn


 

ShiftTxRequestRejection

 

SkedChange

 

SkedPdf

 

SkedPdfBatch

 

SwapMeetClosure

 

SwapMeetProposal

 

Undefined

 

UpcomingShift

 

WorkedHoursEdited
Note: Bad emails are detected automatically. Once an email address is found to be bad, no further message will be sent to that address