Workload Attestation
Attest of the work performed during the last schedule period.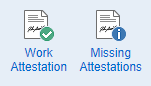 Work Attestation
In the 'Master schedule', after the schedule end date is reached before the schedule lock date, providers will be asked to attest of their hours by selecting the 'Work Attestation' option from the toolbar. The providers will see the attestation statement and confirm that they comply.
The ability to attest to worked hours is available after the end of either the middle of the schedule (or the end of the schedule) and either the mid-schedule lock date or the full schedule lock date, as applicable.
Missing Attestations
Provides a list of providers who have not provided an attestation for the current schedule.
In the 'Master Schedule', the 'Missing Attestations' button is located in the toolbar.