Display Settings Add/Edit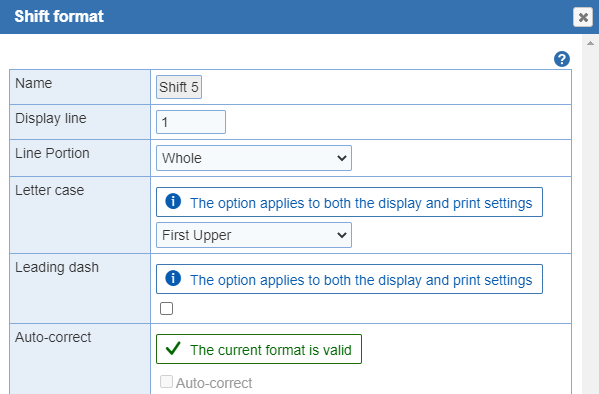 Name: The 'Shift Name' will be default.
Display Line: To position the 'Display Line' click on the shift name. The 'Shift display format' window will display. Next to the 'Display Line' text field you can change the number. Type the desired line number (1 through 96), then click the 'OK' button to update. The name of the current shift is then displayed on the selected line in each of the 'Day Types' in which it is used. Each of your shifts may be assigned to only one displayed line, however each displayed line may be assigned to more than one shift as long as those shifts are not used in the same 'Day Type' and 'Site'.
Line Portion: This is a required field. Under the choices of Whole, Left Half or Right Half which determine the name of the provider scheduled for the shift is printed on the whole line or on only one half of the line (either the right half or the left half). The half line options are best used in conjunction with the landscape paper printing option. Shifts configured for printing on half lines will be placed on sequential lines, the left half above the right half, and all subsequent lines will be moved down one.