On requests review

Review and approve or deny individual requests: Manually review each individual request.
Assignment requests to show: You can choose from 'Not reviewed only' or 'All'.
Provider: The printed names of the providers will be listed.
Shift: The shift name will be displayed.
Date: The date of the shift on the schedule.
Requested on: Time stamp of when the provider requested on for the shift originally.
Note: When reviewing assignments requested by providers, the requests can be exported to Excel.
 

The full time stamp for shift assignment requests is available down to the millisecond level as a tool tip in request approval screen.
Comment: (Optional) Show the comments entered by the providers.
Review status: Informs you if you've reviewed the status of the requested on shift (Not reviewed, Approved, and Denied).
Reviewer: Informs you of the name of the schedule administrator who reviewed the request. Depending upon, if you have multiple schedule administrators, you'll see different names listed.
Date reviewed: Time stamp of when the reviewer approved/denied the requested on shift.
Shift assignment: Displays the provider who was originally prescheduled for the shift as locked.
Note: The sort option is available for all headings.

Approve assignment requests in bulk: Confirm bulk review of assignments all at once.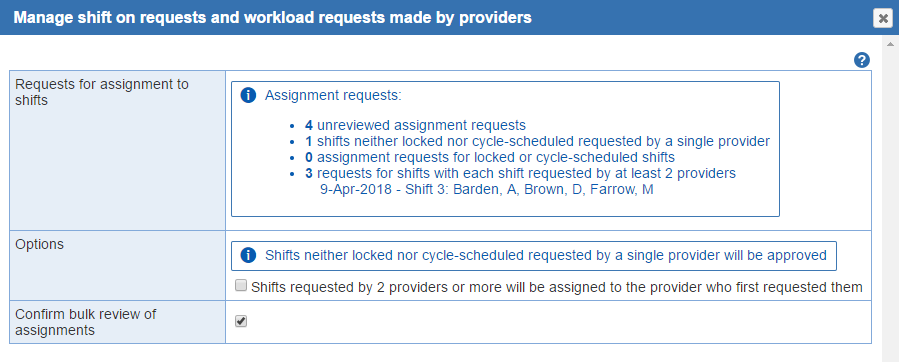 Requests for assignment to shifts: Informs you of the number of assignment requests.
Shifts requested by more than one user are listed when approving the requests in bulk
Options: When approving requests to work specific shifts in bulk, the approval can be limited to shifts requested by only one provider or to all shifts. In the later case, the shift will be assigned to the provider who first requested it. By default, shifts neither locked nor cycle-scheduled requested by a single provider will be approved. If this option is not selected, the request on shifts for the same shift will not be approved for the 1st provider requested on and no one will be assigned.
Confirm bulk review of assignments: This option is a required field to confirm.