Display Settings
Specify how your shifts should be displayed. The 'Display Settings' can be reached from the 'Scheduler' tab by selecting the 'Display Settings' option. The schedule display can use the same line assignments as customized for your printed schedule.
The 'Display Settings' screen appearance is similar to that of the 'Print Settings' screen, reflecting their similarity in function. If you customized your schedule to contain 'more than one site', a menu is displayed with the site names. Unlike the 'Print Settings' screen, the 'Letter Case' and 'Leading Dash' for shifts cannot be edited from this screen.

 

The 'Day types' display the number of the shift lines in the order they were set up in the 'Shifts'. Once you click on a shift name, the 'Shift display format' window will open, now, you can make changes to the 'Display Line' and 'Line Portion'. The menu is located to the right of each shift name.
You can optimize the displayed schedule appearance by following this procedure:
Fill in any blank lines in your line assignments by moving the shifts displayed below the blank upward to fill in the gap. These changes, the schedule display will require less vertical height and may allow a larger font size or alleviate the need for scrolling the display to view the entire schedule.

 

Create blank lines by moving shifts currently shown on separate lines to different line halves of the same line. Shifts displayed below the created blank can then be moved upward to fill in the gap.

 

If the line position and letter case options are adequate to identify which shifts are which on the displayed schedule, you can make the font sizes larger by not displaying the shift name to the left of the assigned provider.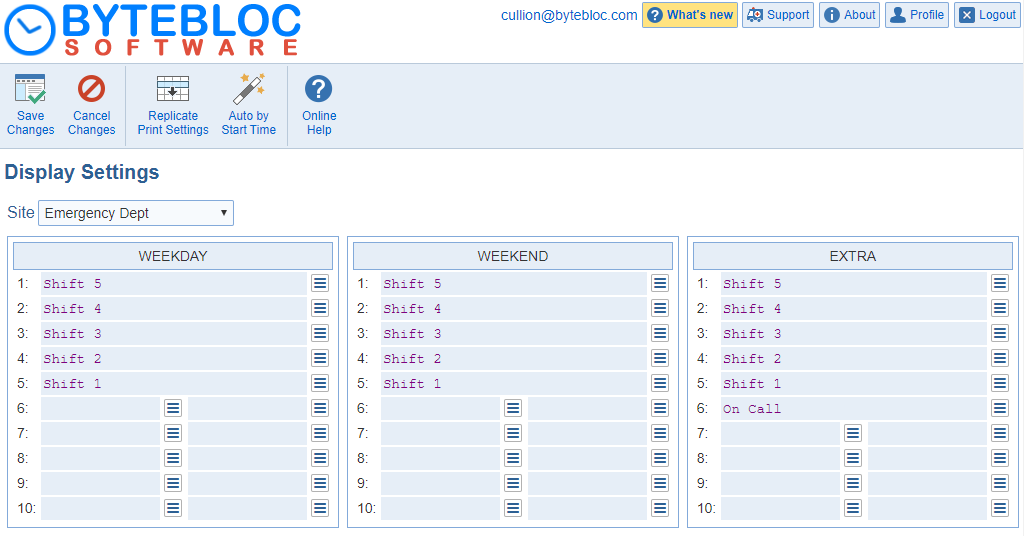 Replicate Print Settings: Set the 'Display Settings' to the same values as the 'Print Settings'.
Auto by Start Time: Automatically set the format for the shifts based on the start time. The print line for each shift for the current site will be set based on its start time.
Site: (visible only if you are using sites) If you divided your current scheduling location into 'sites' within the 'Admin' tab > 'Edit Location' option > 'Schedule' tab, this information is customized specifically for each site. It displays the Site name that you selected for each shift from the 'Manage Shifts'.