Manage Schedule
Publish requests, draft, and work schedules to providers, and manage the description and title for schedule versions. A list of all the schedules created for your account are accessible from the drop down menu. You also, have the capability of deleting a working revision, changing a lock date on an older or current schedule, recreating a schedule, and reprocess future off requests.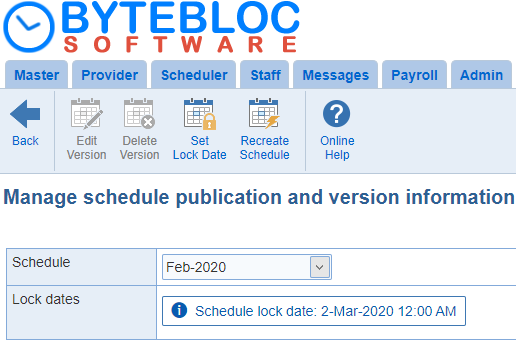 To access manage schedule publication and version information screen, click on 'Manage' within the Scheduler ribbon menu.

 

Edit Version: To edit an existing version, select the schedule from the drop down menu, click on the check box next to the version, and select 'Edit Version'.

 

Delete Version: Delete the selected version of the schedule. This operation cannot be undone.

 

Set Lock Date: Set the lock date for the selected schedule.

 

Recreate Schedule: Recreate 'Working revisions' and 'Requests' versions of a schedule.

 

Schedule approval: (Optional) If this option is available, you can select 'Approve schedule for payroll generation'. This is a 'Payroll Configuration' setting which is optional and enables the generation of payrolls can be conditioned on the approval of the final hours for schedules.. The most current version of the schedule will be used to generate payroll.